Thursday, November 30, 2006
Hot Stove Report: November
The first official month of the off-season has passed us and the Yankees have been relatively silent so far. But for those of you who missed the little news they have made, here's an update.
Nov 10
Acquired RHPs Humberto Sanchez, Kevin Whelan and Anthony Claggett from the Detroit Tigers in exchange for OF Gary Sheffield.
Nov 12
Acquired RHP Chris Britton from Baltimore for RHP Jaret Wright and cash considerations.
Nov 20
Purchased the contract of LHP Chase Wright from Single-A Tampa; Purchased the contract of RHP Jeff Kennard from Double-A Tranton; Purchased the contract of OF Bronson Sardinha from Triple-A Scranton-Wilkes Barre.
Nov 27
Signed RHP Mike Mussina to a two-year contract.
Nov 28

Won negotiating rights for LHP Kei Igawa.
Posted by Steve Kenul at 11:13 PM



Monday, November 27, 2006
Five Yankees Named on HoF Ballot
The National Baseball Hall of Fame released their list of candidates eligible for the 2007 Hall of Fame. This year the class is headed by Cal Ripken Jr famous for his 2,632 consecutive game streak, Tony Gwynn and his eight batting titles, and Mark McGwire, the former home run king who embarrassed himself in front of congress during the 2003 steroid hearings.
With the exception of the above names, five Yankees players are eligible for the Hall including returnees Don Mattingly and Goose Gossage. Matting has two chances left to either be elected into the Hall, or be simply known as a great Yankee and this marks the last time we will see Gossage on the ballot.
The other three former Yankees players are former Bash Brother and steroid user Jose Canseco, "The Warrior" Paul O'Neill, and 1998 World Series MVP Scott Brosius.
Jose Canseco played 37 games with the 2000 Yankees batting .243 with 6 home runs and 19 RBI.

HoF probability: 37%



Paul O'Neill, The Warrior, who's famous images of his "Whiz" catch
during the 1998 season has been printed on posters, one of which I have. Paulie was know mostly for his temper and his repeated attacks on water coolers, but he was also a gentle person taking the time out to have fans indulge in his personal life during a chat conference he had online back in 1997.
O'Neill is also remember in the world of bloopers when he kicked the baseball back into the infield during his time with the Cincinnatti Reds.

HoF probability: 24%


Scott Brosius was the player that he wasn't supposed to be. Coming from the Oakland Athletics, his Yankees career was more than expected coming up big while playing third base, winning the 1998 World Series MVP while hitting two key home runs, and the miracle home run in the 2001 World Series in game four to tie the game in the bottom of the ninth with two outs.

HoF Probability: 17%


Posted by Steve Kenul at 11:39 PM



Saturday, November 25, 2006
BronxBloggers Update
The Ultimate Yankees Tournament is going to be put on hold for the next two weeks in preparation for "sweeps week". Sweeps week for television is the same for blogs. The annual Weblog Awards will be distributed and BronxBloggers.com has been nominated. I am hoping that we will advance to the second round where only ten blogs compete in an international vote to see which blog is the best.
BronxBloggers.com was nominated in the sports blog category and from the looks of it, this is going to be a hard competition. As little recognition sports blogs get, they are well designed and well written.
For more information on the Weblog Awards and how to nominate a blog, click on the links below.
2006 Weblog Awards
Sports blog nominations
Seeing as baseball season is over, and the Yankees are a little quiet during the off-season, it is hard to update the site. So, instead of regular posting, our HTML and CSS experts are looking for ways to improve the site and to figure out why our dividers are blowing out of proportion. Some users do not have that effect; I for one do, and I hate it.
Also, we are preparing for the 2007 season with more in depth coverage starting with spring training and reports on possible break out players and fantasy tips for those of you who have a Yankee on your team.
I am deciding whether or not to change the theme and title of the blog. Currently it is set as BronxBloggers, but with a recent job application that I filled out with Yankees.com, the name could change to Inside the Pressbox. Now I highly doubt I will get the job as a Yankees statician, but I can still hope, and I can still change the theme.
Now you know what is happeneing behind the scenes at BronxBloggers.com. I hope you enjoyed your visit and if you have
any
sugestions on how to improve this site and anything you want to see on here, trolls excluded, drop me an email, or leave a comment and will take it into consideration.
V/r
-Steve
Posted by Steve Kenul at 2:20 AM



Tuesday, November 21, 2006
YankeeCast: MVP
Todays YankeeCast is about the 2006 MVP results with a strong argument for Derek Jeter, who took second place.
After many failed attempts or getting a podcast going thanks to me losing my train of thought, my grandmother walking in talking, the background music messing up, and my occasional cursing, I have finally recorded a decent podcast for you to listen.
powered by ODEO
Posted by Steve Kenul at 7:12 PM



Monday, November 20, 2006
UYT: Pool D
FINAL RESULTS
1922 (1-0) 4, 1906 (0-1) 3
1954 (1-0) 7, 1938 (0-1) 4
1986 (1-0) 7, 1970 (0-1) 5
1906 (1-1) 7, 1938 (0-2) 3
1922 (2-0) 6, 1954 (1-1) 5
2002 (1-0) 7, 1970 (0-2) 5
1954 (2-1) 6, 1906 (1-2) 2
1970 (1-2) 6, 1922 (2-1) 3
2002 (2-0) 8, 1938 (0-3) 2
1970 (2-2) 2, 1906 (1-3) 1
1922 (3-1) 4, 1986 (1-1) 3
1954 (3-1) 7, 2002 (2-1) 3
1938 (1-3) 19, 1986 (1-2) 13
1922 (4-1) 10, 2002 (2-2) 3
1986 (2-2) 10, 1954 (3-2) 8
2002 (3-2) 9, 1906 (1-4) 0
1938 (2-3) 19, 1970 (2-3) 2
1986 (3-2) 4, 1906 (1-5) 3
1938 (3-3) 9, 1922 (5-1) 7
1970 (3-3) 2, 1954 (3-3) 1
2002 (4-2) 12, 1986 (3-3) 4
FINAL STANDINGS
*1922 (5-1)
*2002 (4-2)
1970 (3-3)
1954 (3-3)
1938 (3-3)
1986 (3-3)
1906 (1-5)
*Advanced to 32-team playoffs
Posted by Steve Kenul at 10:31 PM



Sunday, November 19, 2006
YankeeCast
I'd figure that I would too join the podcast world and bring you interactive entertainment. This YankeeCast as I like to call it is a clip from the 2003 American League Championship Series featuring the Yankees and the Red Sox in a classic come-from-behind win enroute to another pennant.
Though we can't bring you the entire game on none podcast, we can bring you up to speed inning by inning.
This clip is the top of the first inning, Roger Clemens faces Johnny Damon, Trot Nixon, Nomar Garciaparra, and Manny Ramirez.
There is a four second delay at the start of the clip.
powered by ODEO
Posted by Steve Kenul at 5:42 PM



Saturday, November 18, 2006
UYT: Pool C
FINAL RESULTS
1905 (1-0) 7, 1921 (0-1) 4
1953 (1-0) 7, 1937 (0-1) 5
1985 (1-0) 10, 1969 (0-1) 9
1937 (1-1) 8, 1921 (0-2) 7
1953 (2-0) 6, 1969 (0-2) 5
2001 (1-0) 5, 1985 (1-1) 4
1953 (3-0) 4, 1937 (1-2) 1
1985 (2-1) 8, 1969 (0-3) 7
1905 (2-0) 13, 2001 (1-1) 3
1953 (4-0) 5, 1921 (0-3) 4
1969 (1-3) 5, 1905 (2-1) 4
1937 (2-2) 8 2001 (1-2) 4
1905 (3-1) 5 1985 (2-2) 3
1921 (1-3) 14, 2001 (1-3) 11
1905 (4-1) 10, 1937 (2-3) 4
1921 (2-3) 9, 1969 (1-4) 0
1985 (3-2) 8, 1953 4-1) 7
2001 (2-3) 5, 1969 (1-5) 1
1953 (5-1) 9, 1905 (4-2) 7
1985 (4-2) 9, 1921 2-4) 8
2001 (3-3) 7, 1937 (3-3) 4

FINAL STANDINGS
*1953 (5-1)
+1905 (4-2)
1985 (4-2)
2001 (3-3)
1937 (3-3)
1969 (1-5)
*Advanced to 32-team playoff
+Advabced to 32-team playoff via tie-breaker rule
Posted by Steve Kenul at 11:51 PM



UYT: Pool B


FINAL RESULTS
1904 (1-0) 4, 1920 (0-1) 2
1952 (1-0) 7, 1936 (0-1) 6
1968 (1-0) 3, 1984 (0-1) 2
1904 (2-0) 4, 1936 (0-2) 2
1920 (1-1) 4, 1952 (1-1) 3
1968 (2-0) 9, 2000 (0-1) 6
1904 (3-0) 3, 1952 (1-2) 1
1968 (3-0) 7, 1920 (1-2) 3
1936 (1-2) 20, 1984 (0-2) 2
2000 (1-1) 5, 1904 (3-1) 1
1936 (2-2) 5, 1920 (1-3) 4
1968 (4-0) 7, 1952 (1-3) 4
1984 (1-2) 11, 2000 (1-2) 3
1904 (4-1) 3, 1968 (4-1) 2
1920 (2-3) 15, 1984 (1-3) 4
1936 (3-2) 3, 2000 (1-3) 2
1952 (2-3) 4, 1984 (2-3) 1
1920 (3-3) 4, 2000 (1-4) 3
1904 (5-1) 10, 1984 (2-4) 4
1952 (3-3) 1, 2000 (1-5) 0
1936 (4-2) 7, 1968 (4-2) 1

FINAL STANDINGS
*1904 (5-1)
*+1936 (4-2)
1968 (4-2)
1920 (3-3)
1952 (3-3)
1984 (2-4)
2000 (1-5)
*Advanced to 32-team tournament
+Won tie breaker for most runs scored
Posted by Steve Kenul at 1:06 PM



UYT: Pool A, Round One


The results from the first round robin tourney are in. A couple rule amendments have been made in order to save time and confusion. The first rule change was reducing the round robin play to only one round instead of two, the second was to add a tie-breaker clause for the teams that are tied for the second playoff spot. Although the records may be the same, we will use the same rule the MLB has used during the World Baseball Classic in which the team that scores the most runs in the round robin is awarded the final spot.
FINAL SCORES
1919 (1-0) 7, 1903 (0-1) 3
1951 (1-0) 4, 1935 (0-1) 3
1967 (1-0) 9, 1983 (0-1) 4
1935 (1-1) 5, 1903 (0-2) 3
1919 (2-0) 5, 1951 (1-1) 1
1999 (1-0) 9, 1967 (1-1) 5
1951 (2-1) 4, 1903 (0-3) 3
1967 (2-1) 2, 1919 (2-1) 1
1999 (2-0) 15, 1983 (0-2) 4
1903 (1-3) 3, 1967 (2-2) 1
1919 (3-1) 10, 1983 (0-3) 2
1999 (3-0) 5, 1935 (1-2) 3
1951 (3-1) 7, 1983 (0-4) 4
1983 (1-4) 3, 1903 (1-4) 2
1999 (4-0) 7, 1919 (3-2) 4
1935 (2-2) 15, 1967 (2-3) 2
1999 (5-0) 7, 1951 (3-2) 2
1935 (3-2) 11, 1983 (1-5) 5
1903 (2-4) 8, 1999 (5-1) 2
1919 (4-2) 3, 1935 (3-3) 2
1951 (4-2) 7, 1967 (2-4) 2
FINAL STANDINGS
*1999 (5-1)
*+1919 (4-2)
1951 (4-2)
1935 (3-3)
1967 (2-4)
1903 (2-4)
1983 (1-5)
*Advanced to tournament
+Won tie breaker for most runs scored
Posted by Steve Kenul at 1:05 AM



Ultimate Yankees Tournament Pools


The pools have been set. We have eight pools of seven teams each, and eight pools of six teams each.
The rules as mentioned before:
1) Each pool will play two round robin tourney's.
2) The two teams with the best record will advance to the tournament bracket.
3) Rankings for the bracket will be determined by both pool records, and real life records.
Keep in mind that only the years are represented in the tourey as all the teams are the Yankees.
POOL A
1903
1919
1935
1951
1967
1983
1999
POOL B
1904
1920
1936
1952
1968
1984
2000
POOL C
1905
1921
1937
1953
1969
1985
2001
POOL D
1906
1922
1938
1954
1970
1986
2002
POOL E
1907
1923
1939
1955
1971
1987
2003
POOL F
1908
1924
1940
1956
1972
1988
2004
POOL G
1909
1925
1941
1957
1973
1989
2005
POOL H
1910
1926
1942
1958
1974
1990
2006
POOL I
1911
1927
1943
1959
1975
1991
POOL J
1912
1928
1944
1960
1976
1992
POOL K
1913
1929
1945
1961
1977
1993
POOL L
1914
1930
1946
1962
1978
1994
POOL M
1915
1931
1947
1963
1979
1995
POOL N
1916
1932
1948
1964
1980
1996
POOL O
1917
1933
1949
1965
1981
1997
POOL P
1918
1934
1950
1966
1982
1998
Posted by Steve Kenul at 12:57 AM



Inaugural Ultimate Yankees Tournament


The creative minds behind Bronx Bloggers have struck again with a new feature. With the slow off season already upon us, it has been decided to introduce a tournament that never was.
The 2006 Inaugural Ultimate Yankees Tournament.
Unofficially sponsored by
WhatIfSports.com
, the tournament will consist of 8 pools of 7 teams and eight pools consisting of 6 teams. We will use the simulation provided by WhatIfSports and "play" out each game as if it were a real game.
Like any other pool play, each team will go through two separate round robin tourney's and the two teams with the best records will qualify for the tournament bracket consisting of 32 teams altogether.
Those 32 teams will be seeded accordingly by record and real life records. After the bracket is set, the teams will play a best-of-three series and 16 teams will advance to the second round.
The second round will be a best-of-five series to determine the teams that will advance to the quarterfinals in which the teams will play the same series format for the four teams to participate in the semi-finals.
In both the semi-finals and championship game, the format will be a best-of-seven series to determine the Ultimate Yankees Champion.
The winner on the tournament will hold the #1 ranking to carry over to the 2007 tournament and configure in with the pool play.
Posted by Steve Kenul at 12:21 AM



Friday, November 17, 2006
Farm Report
TOP 5 PROSPECTSEric Duncan, 1B/3B
Duncan won't turn 22 until December, so there is still plenty of time for him to turn around what has become an injury-plagued, lackluster career. The former first-round pick had a miserable 2005, which was low-lighted when he was hit in the head with a pitch in August. He returned to action in the Arizona Fall League at full strength and won the MVP award, leading many to believe he left his struggles behind. But he got off to a miserable start at Triple-A Columbus in 2006, hitting .209 with six RBIs and no homers in 31 games. Duncan was shipped back to Double-A Trenton and fared only slightly better, hitting .248 with 10 homers in 206 at-bats. He drove in only 29 runs, though, as a recurring back injury hampered him for much of the season. Duncan needs to stay healthy next season and put up better numbers or he'll make the dreaded leap from prospect to suspect.
Philip Hughes, RHP
There's nothing suspect about the way Hughes went about his business this season, proving to be one of the most dominating pitchers in all of Minor League Baseball. He went 12-6 with a 2.16 ERA, making 21 of his 26 starts at Double-A Trenton. He was 10-3 for the Thunder with an Eastern League-leading 2.25 ERA, striking out 138 in 116 innings. He tied for fifth in the Minors by limiting hitters to a .174 combined average at Trenton and Tampa. And he got a call-up of sorts in September, spending time in the Yankees' clubhouse and participating in workouts. Hughes wasn't allowed on the bench, though, because he wasn't added to the roster. He'll probably start next season in Triple-A Scranton/Wilkes-Barre, but don't be surprised if he makes a bid to join the New York rotation.
Tyler Clippard, RHP
Clippard also got a well-deserved call-up in Hughes-like fashion after going 12-10 with a 3.35 ERA in 28 starts for Trenton. He finished fifth in all of the Minors with 175 strikeouts (166 1/3 innings) while holding opponents to a .200 average. His walk total was up slightly this season, (55 from 34 in 2005), but much of that has to do with the fact that he pitched 19 more innings this year and was facing a more mature and patient brand of hitters -- his career WHIP is still 1.09. Clippard has a better-than-average fastball and will get to show it to hitters in the International League next season. Long-term, he's expected to be part of the rotation in New York with Hughes and Chien-Ming Wang.
Melky Cabrera, OF
Does anyone remember Cabrera's dreadful 2005 Major League debut anymore? When he was called up to the Yanks in early May, some folks in New York winced. But Cabrera went out and performed like the prospect he is, putting last season's miserable experience behind him. When Gary Sheffield and Hideki Matsui went down with injuries, Cabrera filled the void with ease, helping the Yanks to another Eastern Division title. He hit .280 with seven homers and 50 RBIs in 460 at-bats. He also stole 12 bases and figures to be part of the mix in the Bronx for quite some time.
Steven White, RHP
The Baylor product found the Eastern and International Leagues to be two very different animals. White began the year at Double-A Trenton looking very sharp, going 4-1 with a 2.11 ERA in 11 starts. The Yanks thought it was time to move him up, so he was bumped to Columbus, where he found the more seasoned hitters a bit difficult to handle at times. He went 4-9 with a 4.71 ERA in 17 starts for the Clippers. While he held Eastern League hitters to a .217 average, the IL touched him up to the tune of a .256 average. And, after not allowing a homer in 68 1/3 innings with Trenton, he surrendered eight in 107 innings at Columbus.
Posted by Steve Kenul at 10:16 PM



Thursday, November 16, 2006
Wang Runner up in Cy Young
Chien-Ming Wang's breakout season may have earned him the title of the Yankees' ace, but it wasn't enough to overcome Minnesota's Johan Santana in the American League Cy Young Award vote.
Santana captured his second career award with a stellar 2006, earning a unanimous selection. Wang placed second in the vote, followed by Toronto's Roy Halladay, Los Angeles' Francisco Rodriguez and Minnesota's Joe Nathan.
Santana led the AL in wins (19), ERA (2.77), strikeouts (245), innings pitched (233 2/3), opponents' batting average (.216) and WHIP (1.00). Santana also won the Cy Young in 2004.
Wang, who went 19-6, matched Santana for the league-lead in victories, but his 3.63 ERA and 1.31 WHIP were far behind the Twins' ace. Santana received all 28 first-place votes, while Wang received 15 second-place votes and six third-place votes, appearing on 21 of the 28 ballots.
"Wang certainly pitched well enough to be considered in most years," said Dom Amore of The Hartford Courant, who put Wang second on his ballot. "But Santana was the clear-cut No. 1 choice."
Wang is the second Yankees pitcher to finish second in Cy Young voting in the past two years, joining Mariano Rivera, who placed second to Bartolo Colon last fall.
Wang ranked among the league leaders in several categories, as his .760 winning percentage was third in the AL, his 218 innings pitched were fifth and his two complete games ranked sixth. Wang's 3.63 ERA was eighth in the league. The Yankees went 22-11 in Wang's 33 starts.
Sam Borden, who covered the Yankees for The Daily News in 2006, placed Wang second on his ballot between Santana and Roy Halladay.
"Without Santana in the league, I think Wang would have been a very legitimate candidate to win," Borden said. "He's definitely a different type of pitcher, but he was effective throughout the season. I don't think it's fair to penalize him having less strikeouts; he gets outs in his own way and he did it well for most of the year."
Although he averaged just over three strikeouts per nine innings, Wang made up for it by inducing 33 double plays this season, the second-highest total in the American League behind Jake Westbrook's 36.
Wang also got 483 ground balls against just 158 fly balls, a ratio of 3.06-to-1 -- tops in the league.
Amore, who voted Santana-Wang-Halladay as his top three, said that Wang's low strikeout totals should be overlooked because of the type of pitcher he is.
"Although his WHIP numbers will never be great, he doesn't give up a lot of home runs and gets a lot of double plays, so that erases a lot of the baserunners he puts on," Amore said. "If it takes three hits to score a run, you're a pretty effective pitcher.
Wang's breakout season was a pleasant surprise from the Yankees, who started the right-hander over Randy Johnson and Mike Mussina in Game 1 of the Division Series against the Tigers.
"I don't think we could have ever dreamed that would be the case," manager Joe Torre said. "The big part of it is his personality and confidence in himself."
"He's been our savior," said catcher Jorge Posada before the postseason. "He's stayed consistent, he's stayed healthy, and for me, he's the Cy Young Award winner."
Posted by Steve Kenul at 3:08 PM



Tuesday, November 14, 2006
Wright Headed to Baltimore for Reliever
Earlier this week, the Yankees dealt Gary Sheffield for three pitching prospects rather than allowing the outfielder to leave via free agency after the 2007 season.
On Sunday, the Yankees took the same approach with Jaret Wright, dealing him to the Orioles for right-handed reliever Chris Britton. New York also sent $4 million to Baltimore in the deal.
Wright, who is set to earn $7 million in 2007, had a clause in his contract that would have allowed the Yankees to buy out the final year of his deal for $4 million.
Since Wright was not expected to return to the Yankees next year, it was widely assumed that his contract would be bought out, but general manager Brian Cashman opted to pay that same $4 million to a team willing to acquire the pitcher, allowing the Yankees to obtain a player in return.
"We are excited with the addition of Chris Britton, who we expect to compete for a role in our bullpen," said Yankees general manager Brian Cashman in a statement. "This acquisition provides additional flexibility to our pitching staff as we continue the transition toward the 2007 season. We thank Jaret Wright for his contributions as a Yankee and we wish him and his family nothing but the best."
Wright, who will turn 31 on Dec. 29, went 11-7 with a 4.49 ERA in 2006, his second season with the Yankees. He signed a three-year, $21 million contract with New York before the 2005 season, but he battled injuries in his first year of the deal, making just 13 starts.
The trade leaves just Randy Johnson, Chien-Ming Wang and Carl Pavano as starting pitchers on the Yankees roster, though free agent Mike Mussina is expected to return on a new two-year contract.
Wright pitched well down the stretch in 2006, going 6-2 after the All-Star break and 2-0 with a 2.95 ERA in three September starts. But his final start for New York came in Game 4 of the American League Division Series, when he was hit for four runs (three earned) in just 2 2/3 innings against the Tigers. The Yankees lost that game, 8-3, ending their postseason run much earlier than expected.
In two seasons with the Yankees, Wright went 16-12 with a 4.98 ERA in 43 games, 40 of which were starts. Wright is 68-57 in his 10-year career as a member of the Indians, Braves, Padres and Yankees.
Britton, who turns 24 on Dec. 16, is an intimidating right-hander at 6-foot-3 and 278 pounds. He went 0-2 with one save and a 3.35 ERA in 52 games with Baltimore in 2006, his first year in the Majors.
With Scott Proctor, Kyle Farnsworth and Brian Bruney set to return to the bullpen next season, Britton could open the year at Triple-A Scranton/Wilkes-Barre.
Posted by Steve Kenul at 12:03 AM



Sunday, November 12, 2006
Silver Duo
Derek Jeter's romp through postseason awards continued on Friday, as the Yankees' shortstop earned the first Silver Slugger Award of his career.
Jeter had some company on this one, though, as Robinson Cano picked up a Silver Slugger of his own as the American League's top hitting second baseman.
Jeter, who is a front-runner for the AL Most Valuable Player Award, has also picked up the AL Hank Aaron Award and his third consecutive Gold Glove this offseason.
Jeter ranked second in the American League with a .343 batting average and 118 runs scored, fourth with a .417 on-base percentage and sixth with 34 stolen bases. Jeter also hit 14 home runs and drove in 97 runs out of the No. 2 spot in New York's lineup.
"The consistency that I noticed, beyond his statistics, is the fact that he comes here with the same intensity every day," Yankees manager Joe Torre said in September.
According to the Elias Sports Bureau, Jeter became just the fifth player in the past 75 seasons to hit .340 or higher, drive in at least 90 runs and steal 30 or more bases in the same season. The others were Larry Walker (1997), Ellis Burks (1996), Willie Mays (1958) and Jackie Robinson (1949).
"I think sometimes people lose sight when they talk about baseball players, that hitting home runs makes them great, and if you don't hit home runs, then you're not," Jeter said in September. "Home runs get all the highlights -- you see them on 'SportsCenter' and all that. But there's more to the game than just home runs."
Cano followed up his impressive rookie season of 2005 with an even better year in 2006. Cano, who turned 24 on Oct. 22, hit .342 for the year, finishing third in the AL bating race behind Minnesota's Joe Mauer and Jeter. Cano hit 15 home runs and drove in 78 runs, despite missing six weeks with a hamstring injury.
Louisville Slugger's Silver Slugger Award winners were determined by a vote of Major League Baseball coaches and managers. The voters selected the players they felt were the best offensive producers at each position in both the American and National League in 2006.
Selections were based on a combination of offensive statistics including batting average, on-base percentage, and slugging percentage, as well as the coaches' and managers' general impressions of a player's overall offensive value. Managers and coaches were not allowed to vote for players on their own team.
The Silver Slugger Award will be presented to each player by a representative of the Hillerich & Bradsby Co., makers of Louisville Slugger, the Official Bat of Major League Baseball, in a ceremony early in the 2006 season.
The trophy is three feet tall and bears the engraved name of the winner and his Silver Slugger teammates in his respective league. The Silver Slugger Award was instituted by H&B in 1980 as a natural extension of the Silver Bat Award which is, as its name indicates, a silver-plated bat presented by Louisville Slugger to the batting champions in the AL and NL.
Posted by Steve Kenul at 1:11 AM



Friday, November 10, 2006
Gary Sheffield Traded
Outfielder turned first baseman Gary Sheffield was traded today to the Detroit Tigers in exchange for three right-handed minor league pitchers. Stay tuned for additional information.
From ESPN.com:
In return for Sheffield, the Tigers sent Humberto Sanchez, Kevin Whelan and Anthony Claggett to New York. Detroit agreed to a two-year contract extension with Sheffield through the 2009 season.
Posted by Steve Kenul at 2:52 PM



Saturday, November 04, 2006
Jeter Wins 3rd Gold Glove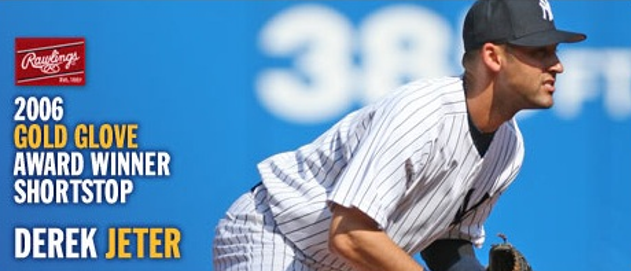 Derek Jeter added another piece of hardware to his trophy case on Thursday, capturing his third consecutive Rawlings Gold Glove Award.
"The Gold Glove Award means a great deal to me," Jeter said in a statement. "Fielding doesn't get many headlines, but it's a big part of the game of baseball. I take great pride in my defense, and to be recognized with a Gold Glove for three straight seasons is a great honor that I will always cherish."

Jeter also won this year's Hank Aaron Award in the American League and is a front-runner for the league's Most Valuable Player Award.

Yankees owner George Steinbrenner was "elated" upon hearing of Jeter's gold glove, according to the owner's spokesman, Howard Rubenstein.

"I'm very proud of Derek," Steinbrenner said through Rubenstein. "I hope he wins the MVP; he should. He's a great Yankee and a great leader."

Jeter's .975 fielding percentage ranked fourth in the AL, while his 15 errors were third fewest behind to Texas' Michael Young and Chicago's Juan Uribe (14 each) among all AL shortstops who played in at least 130 games. Young (.981), Cleveland's Jhonny Peralta (.977) and Uribe (.977) were the only shortstops with a better fielding percentage.

In 2004, Jeter became the first Yankees shortstop to win the award, giving the Bombers a Gold Glover at every position in their history.

The Yankees now have had 20 players win a total of 57 Gold Glove Awards, led by Don Mattingly's nine at first base.

The other winners in the AL were Detroit's Kenny Rogers and Ivan Rodriguez, Texas' Mark Teixeira, Kansas City's Mark Grudzielanek, Oakland's Eric Chavez, Toronto's Vernon Wells, Seattle's Ichiro Suzuki and Minnesota's Torii Hunter.

Rawlings established the Gold Glove Award to recognize the best fielders at each position. Managers and coaches of each team vote for the best defensive players in their league, excluding their own team.

The first Rawlings Gold Gloves were awarded to one player at each position across both leagues in 1957. Since 1958, the Rawlings Gold Glove Award has been presented annually to a lineup of nine players for both the American and National Leagues.
Posted by Steve Kenul at 11:26 PM



Thursday, November 02, 2006
World Series Montage
Today I present a montage of World Series highlights from the Yankees 4 World Series titles spanning from 1996 to 2000. I hope you enjoy this as much as I did.
Posted by Steve Kenul at 11:16 PM



2006 in Review


Let's all take a look back and see what events were laid out for the 2006 Yankees. Enjoy the clip!
Posted by Steve Kenul at 12:04 AM



Wednesday, November 01, 2006
2006 Roster
Today I present to you a slideshow of the 2006 Yankees to the tune of Frank Sintara's "New York, New York".
Posted by Steve Kenul at 1:36 AM